Whether or not we want to admit it, most of our day is spent at work. But that doesn't mean work can't be a fun place. This truth was highlighted for us when we at Greenhorizons Sod Farms and our Professional Sod Install Team were recently called in for a very special natural turf project. A FIFA Soccer Pitch needed building!
CentreCorp owns a multi-user facility at the corner of Steeles Avenue and the 404 in Toronto. One of the tenants, Tangerine, had a bit of an unusual request. They wanted a FIFA standard soccer pitch built in the outdoor courtyard as a play space for its employees.  
CentreCorp decided to bring Greenhorizons Sod Farms on board for the job.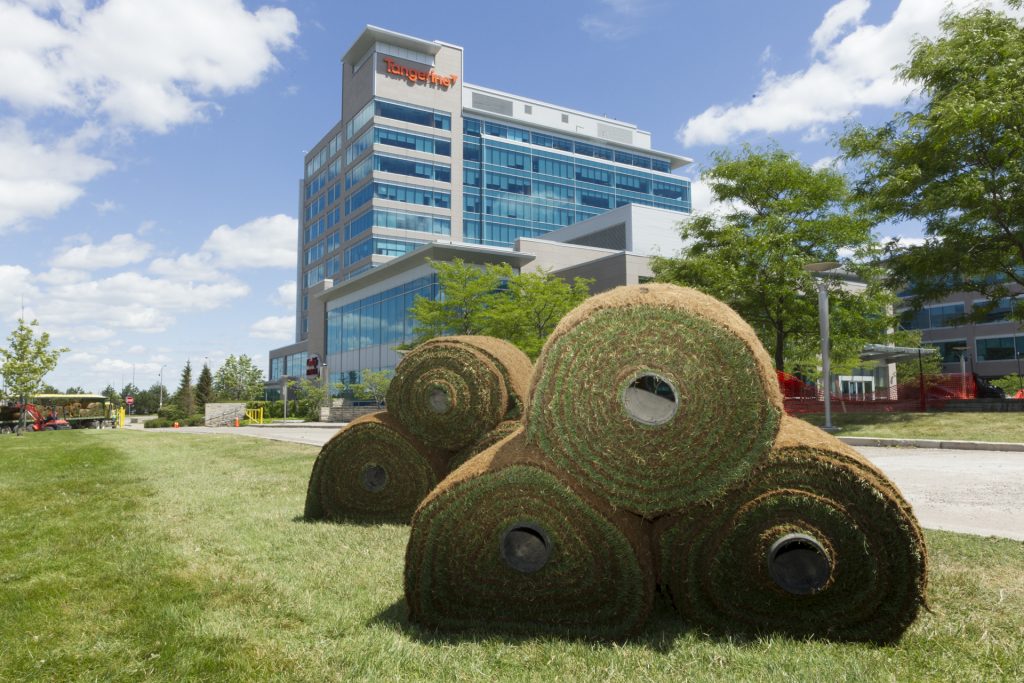 FIFA Quality Field
"Because of the location, it's a bit of a centerpiece," said Steve Schiedel, Greenhorizons CEO. The space allowed for a soccer pitch about a quarter of the size of a regulation field.
"While the field might not get the same number of hours as other soccer pitches because it was smaller, the traffic intensity would be as great or greater per square foot on this field," Steve explained. "That's why we went with a FIFA standard." 
Outfitted with our Greenhorizons Ultimate Sports Turf System, the field looked awesome! This system includes 12 inches of engineered sand growing profile for the roots of the natural grass turf to grow into. In addition, we also required a good drainage system in the sub-grade and soil-less, or washed sod. (Washing the sod is essential because it removes the soil from the bottom of the sod. Otherwise, the soil compacts when the field is in use and that hinders drainage on the field) .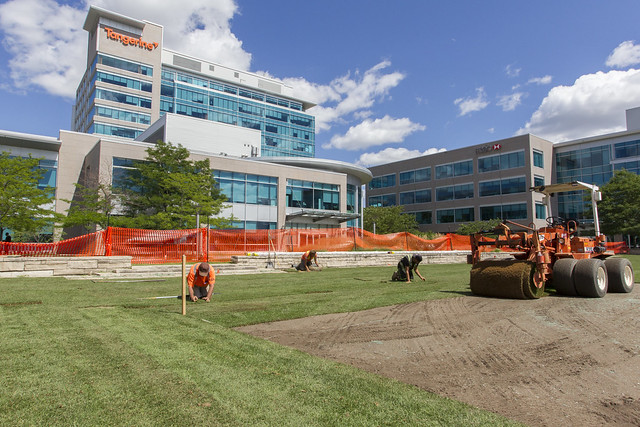 Ensuring Proper Drainage
Speaking of drainage, it really is what's under the surface that matters! In this case, what was under the space was the underground parking. That presented some unique challenges for us in order to get the drainage working properly. We didn't want the field flooded and unusable after a rainstorm.   
"We also introduced an additional stabilization product into the engineered sand. This ties the roots of the grass together and minimizes root ripping and divots," Steve said. It was also important for us to consider the framing of the pitch. Two roads frame the pitch. On the opposite sides, the building closes in the pitch. None of these make good places for an errant soccer ball to end up. 
"We put up safety nets. These nets will help avoid stray balls going into the road or building," Steve said.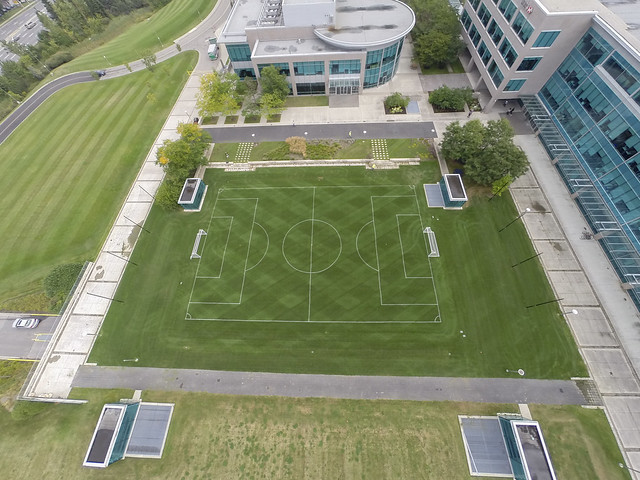 Creating a Great Space
This project turned out to be a very special one for us. Tangerine wanted to do something for its employees to show them that their health and happiness is important. Meanwhile, CentreCorp showed Tangerine that it was willing to cater its facilities to suit its tenants. And we got to show both groups what we were capable of: creating a beautiful space that will also perform well. It's a great day for us when we get a chance to turn wishes into reality!