The BMO Field is an outside pitch in downtown Toronto in Exhibition Place. Originally, it had artificial turf. Eventually, natural grass replaced the artificial turf. By outfitting it with an engineered sand profile, the field fit the regulations of the USGA (United States Golf Association).
BMO Field: Engineered Sand Profile
"The advantage of an engineered sand profile is that it does not get compacted. Plants need air and water to grow. As soon as the growing medium compacts, it's very difficult for grass to grow. Also, with an engineered sand profile, the water will always drain if you get an inch or two of rain," explained Steve Schiedel, Greenhorizons CEO. "Golf courses have been utilizing this technology for 30 years. However, only recently have sports fields begun using it."
"Only a very specific engineered sand profile can be used on USGA golf greens."
Unfortunately, when redoing the BMO Field in Exhibition Place, "They used traditional native sod. This sod still had the native soil on it which meant that the growing medium compacted. Water wasn't able to permeate through it," said Steve.
This lead to large puddles in the field following any heavy rain. 
"All of the benefits of the engineered sand profile weren't being realized. This is because of the inch of native soil on top of the engineered sand profile." 
Resolving the Issue
In October 2012, the BMO Field asked Greenhorizons to provide a solution to this impermeability problem.
"The grass needed to be custom-grown on the exact same engineered sand profile as the BMO Field," said Steve.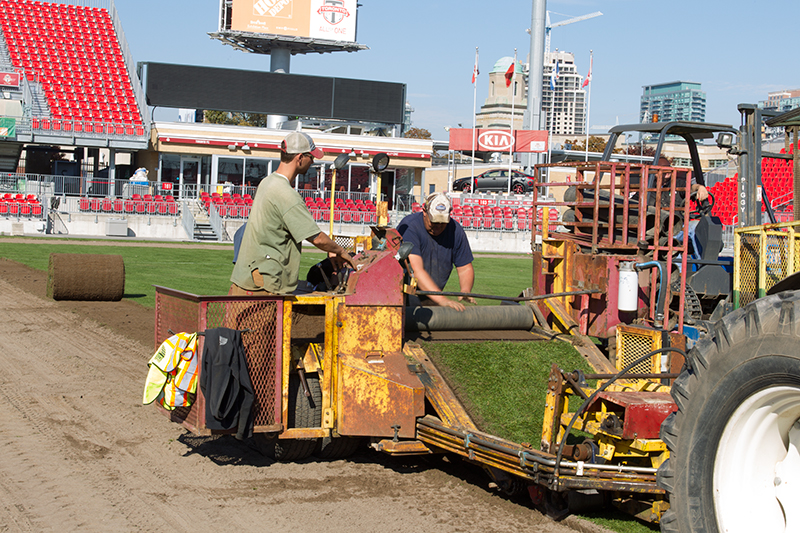 With this solution, a little patience was necessary. It would be two years before the sod was ready! Finally, it was time for the transformation of the pitch to begin. 
"We removed all of the native sod from the BMO Field, and after that, we laser-graded it. This ensured that it would be as flat as a billiard table," said Steve. 
"We then top dressed the soil, evenly distributing it out over the whole field, like a powdered sugar dusting on a dessert. This method replaced dumping a pile of it in the field and shoving it around with a bulldozer." 
Laser-grading the field again ensured that it was perfectly smooth and level. Next, it was time to lay the sod. Finally, we needed to fertilize with natural and organic fertilizer.
"The surface had to meet FIFA's specifications and regulations, and the pitch had to perform to FIFA standards," said Steve. 
"When we laid the sod, it was very critical to line up the sod perfectly. We wanted to be sure that you wouldn't be able to see any seams." 
After that, it was time to top dress and groom the soil.
"We made sure the profile of the sod was perfectly smooth, level, and firm," said Steve. 
In the end, the BMO Field in Exhibition Place Toronto ended up becoming a showpiece for Greenhorizons Group.