Fall is my favourite season. The beautiful turning of the leaves and the cooler weather make spending time outside delightful! Local sod farms, like Greenhorizons, plant their sod fields in the fall due to increased amounts of rain, and the cooler temperatures. Rain is essential to proper grass seed germination because it needs to stay consistently moist. Also, fall is the time during the grass's growing cycle when roots are growing the most aggressively in anticipation of winter dormancy. These factors, among others, make fall the perfect time to overseed your lawn using the BigYellowBag Overseeding Bundle!
Overseeding Your Lawn with BigYellowBag!
Overseeding is an excellent way to get your lawn looking lush and beautiful for years to come. If you are using high quality products such as BigYellowBag's Overseeding Bundle, overseeding will add essential nutrients to your lawn's soil base. Also, the newly germinated seeds will thicken your lawn, and cover up any pockets or holes there might be.
So what does it take to overseed? Not very much… Especially with BigYellowBag here to help.
BigYellowBag's Overseeding Bundle (approx. 1500 sq. ft. coverage)
Essential Tools: Shovel, Leaf Rake, Sprinkler
Optional Tools: tape measure, wheelbarrow, roller
An afternoon
BigYellowBag Overseeding Bundle: How-To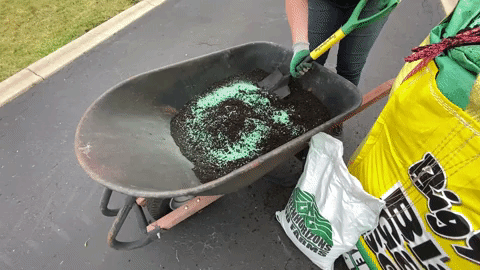 Once you have all the required tools and materials, overseeding is simple! Here's a step-by-step guide to help you through it.
Step 1: Rake and Fertilizer – Rake all areas you plan to overseed. Remove debris and expose the soil! Spread your BigYellowBag 10-25-10 Starter Fertilizer!
Step 2: Prepare – Start by spreading a thin layer of the BigYellowBag Topdressing Mix over the areas to be seeded. Make sure not to smother the existing grass.
Step 3: Mix – Measure 40 parts BigYellowBag Topdressing Mix to 1 part BigYellowBag Overseeding Blend Lawn Seed (for example, 40 shovels of soil + 1 shovel of seed). Spread your mixture about 1/4 inch over the area to be seeded.
TIP: Divide the mixture in half. Spread half evenly over the entire area, then repeat.
Step 4: Rake & Pat Down – Lightly rake the seed-soil mixture using a leaf rake to get good seed-soil contact. Then use your feet to walk over the area (or use a roller if available), this will allow the seed to settle into the soil firm, but not compacted.
TIP: A roller can make this step much easier for larger lawns!
Step 5: Water – This is the most important step! Ensure the soil stays consistently wet on the surface. Water lightly, 1/4 inch per day for 2 weeks, then every other day for 2 more weeks.
TIP: For best results, follow this recommended watering schedule!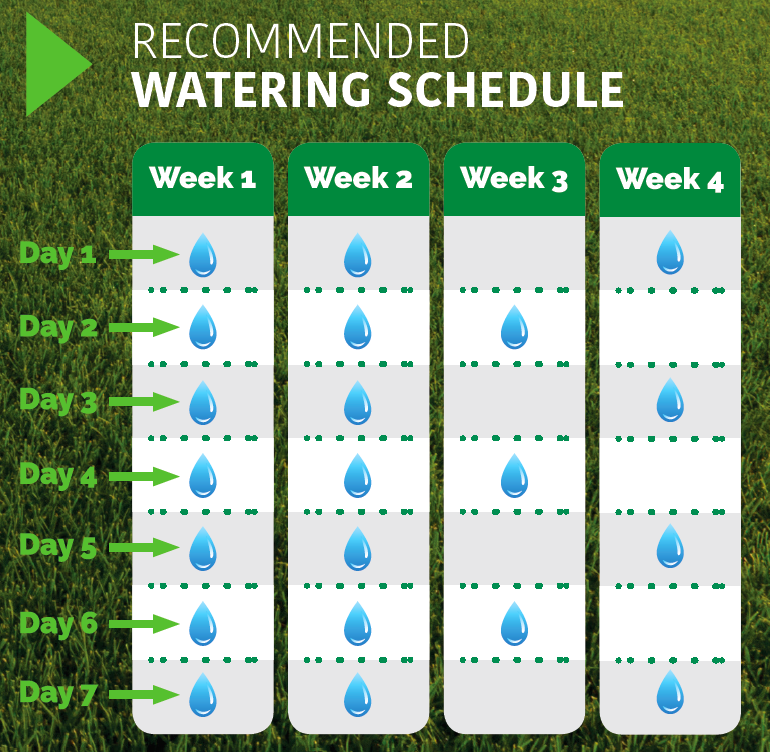 As much as BigYellowBag makes it easier, overseeding is pretty simple. It's an extremely effective way for homeowners to get a picture-perfect lawn without having to re-sod the entire thing.
*BigYellowBag Overseeding Bundles are ONLY available from Greenhorizons Sod Farms locations*
Order Your Overseeding Bundle now at BigYellowBag.com!