Greenhorizons Sod Farms was built on over 200 years of Ontario agricultural experience. Since farming is largely dependent on communities, any family who has farmed for 200 years is going to develop deep community ties. We have always held community support in high regard, jumping at the opportunity to sponsor local events, especially when they are for a great cause. Recently, one of those opportunities has presented itself. We are really excited about this Miracle Plane Pull!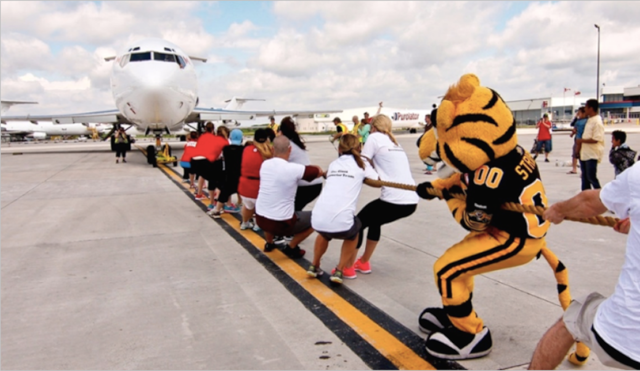 The Miracle Plane Pull Event
The 6th annual Miracle Plane Pull for McMaster Children's Hospital Foundation is coming up fast! Just down the road from Greenhorizons Hamilton, John C. Munro Hamilton International Airport will host this event on Sunday, June 3, 2018 in conjunction with the Canadian Warplane Heritage Museum. This unique event brings together approximately 1,000 individuals and families from the local community. These people are eager to join with friends to test their strength, enjoy an interactive setting, and, of course, support McMaster Children's Hospital Foundation.
Each participating team of 15-25 adults receives two opportunities to pull a Boeing 727 25 feet. They can take as long as they need to reach the goal. However, their times are recorded so the goal is to pull the plane in the shortest amount of time. The fastest time will win you the Miracle Plane Pull Trophy!
The Cause
McMaster Children's Hospital is one of Canada's leading pediatric health care facilities. As a result, they are the regional referral centre for children who are seriously ill, injured, or require specialized services in Hamilton and across south-central Ontario. Since the government does not provide funding for equipment purchases, community support is essential to McMaster Children's Hospital Foundation. Therefore, the generosity of the community ensures that the teams at McMaster Children's Hospital have the tools needed to provide the best care possible.

Join In!
If any of this sounds like fun to you, think of 15-25 people that you would want on YOUR team. Click here for more information! There are more details on the event and you can register your team. See you at the Plane Pull!