Back To School Gardening!
It's that time of year again! The time when parents are holding back their smiles as they wave goodbye to endless summer days. No more cries of "I'm bored" and "there's nothing to do" from their little ones. The school buses are making their rounds and picking up the kids for the first weeks of school! We all know what that means: you can finally find time for all those garden projects you never got around to this summer. BigYellowBag is here to help! This fall we are planning a 5 day contest to celebrate getting Back to Gardening!!
Here's how it works:
Keep checking your email (or simply come back to this blog post) from September 9-13, 2019 for the Back to School Gardening Contest! Each question you answer gives you one entry to a draw for the Daily Prizes. Without giving too much away… you can win things like a BigYellowBag of Black Garden Soil, a BigYellowBag Overseeding Bundle, and even 1000 square feet of sod! (Depending on Winner's location, daily prizes are subject to change, same approximate retail value for substitutions)
Each question you answer ALSO enters you into the Grand Prize draw. The Grand Prize is a beautiful EGO 20 in. Brushless Steel Deck Walk Behind-Self Propelled, Cordless Mower which includes a 7.5 Ah Battery/Charger!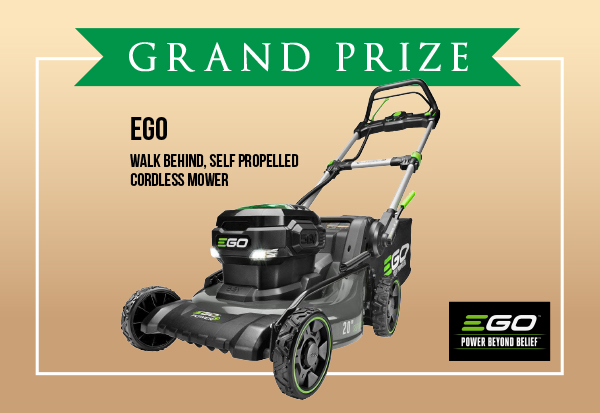 Feel free to do some research to get all the questions right. 5 answers earns you the best chance to win that beautiful lawn mower! (Not to mention each Daily Prize!) Also, any BigYellowBag purchase made using the WinCode BTG101 will gain 3 additional entries to win the grand prize! Get stocked up on quality soil, and get a better chance to win this eco-friendly, feature packed lawnmower!
During the contest, click today's date on the calendar to bring you to the Daily Trivia Question!
September 2019
Sun
Mon
Tue
Wed
Thu
Fri
Sat
1
2
3
4
5
6
7
8
9
10
11
12
13
14
15
16
17
18
19
20
21
22
23
24
25
26
27
28
29
30
Think you've got all the answers? Daily draw winners will be announced every morning at 9:30AM EST starting September 10, 2019. The Grand Prize winner will be announced September 16, 2019! (Calendar links updated daily, if you've already played today, check back tomorrow)
Best of Luck!
Terms and conditions apply. See daily forms for details.
Winners List
Richard Rancourt – Day 1 – BigYellowBag of Black Garden Soil
James Lilly – Day 1 – BigYellowBag of Black Garden Soil
Penny Connolly – Day 2 – BigYellowBag of Mulch
Debra Roche – Day 2 – BigYellowBag of Mulch
Mary Pettigrew – Day 3 – 1000 sq.ft. of Kentucky Bluegrass Sod
Barb Jordan – Day 4 – BigYellowBag Overseeding Bundle
Neil Blake – Day 5 – EGO Cordless Electric Leaf Blower
Peter Uremovich – GRAND PRIZE – EGO Cordless Walk Behind Self Propelled Mower
The contest is now over! Thank you for participating!